Leadership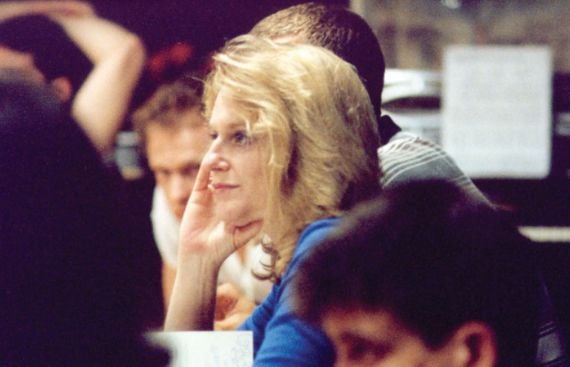 Bonnie J. Monte
Artistic Director
is now in her 33rd season as the company's Artistic Director. Under her leadership, the Theatre has evolved into one of the most respected classical theatres in the nation. Ms. Monte has garnered national recognition for her highly successful revitalization of the institution...
---
Board of Trustees
The Honorable Thomas H. Kean, Honorary Chairman
Haywood Huntley, Jr., President
T. Randolph Harris, Chairman
Laura Aden James B. Kobak, Jr.
Patrick Bell Ryan LaPré
Shannon O'Conner Bock Anisa Mehdi
Nabil Eliya Suryanshu Mishra
Sarah Fargo Bonnie J. Monte
Janice Haggerty Paul Mullins
Peter D. Kendall Dr. Edward Ng
Stark D. Kirby, Jr. Gretchen Thomas
Scott Klokis Elizabeth Yamashita
Thomas J. Schwarz, President of Drew University*
Robert H. Conley, Mayor of Madison*
Trustees Emeriti
S. Dillard Kirby
Richard B. McGlynn
Heath McLendon
*Honorary Trustee
---
Staff
ARTISTIC
Bonnie J. Monte, Artistic Director
AC Horton, Artistic Associate
Ari Pollack, Company Manager
FINANCE & ADMINISTRATIVE
Molly Pascucci, General Manager
Usha Ganesh, Director of Finance
EDUCATION
Brian B. Crowe, Director of Education
Emily Rose Reed, Education Programs Coordinator
DEVELOPMENT
Linda DeTitta, Director of Development
Sara Hedgepeth, Development Associate, Individual Giving and Special Events
MARKETING & PUBLIC RELATIONS
Sydney Fucito, Marketing Associate
PRODUCTION & FACILITIES
Bill Manning, Facilities Manager
Melissa Barry, Production Coordinator
Steve Beckel, Lighting & Sound Supervisor
Kevin Gartley, Lighting Technician
Patrice N. Trower, Costume Shop Manager
Madi Bell, Draper
Katie Kurz, Wardrobe Supervisor
Dan Kikuchi, Carpenter
James McMenamin, Carpenter
Beatriz Rivera and Carmen Rivera, Facilities Assistants
PATRON SERVICES
Karen Haskell, Box Office Manager
Brianna Martinez, Assistant Box Office Manager/House Manager
Seasonal Sales Representatives - Nina DiNorscio, Azul Flores, Jamie Good
To reach our Administrative Offices, please call (973) 845-6723.
To reach our Box Office, please call (973) 408–5600.
To reach our Education Department, call (973) 845-6742.