The Outdoor Stage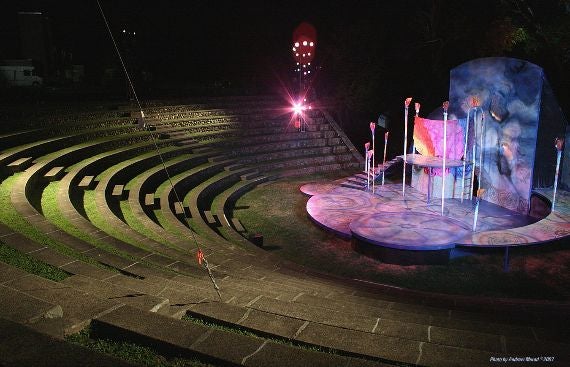 The Theatre's Outdoor Stage is located on the campus of Saint Elizabeth University in Morristown (at the Convent Station train stop). The grass-and-stone amphitheater, inspired by the Theatre of Dionysus in Athens, and one of the only theatres of its kind in the United States hosting a professional theatre company, debuted as a new performance space for the company in 2002. The venue accommodates approximately 500 audience members.
Seating is general admission; the amphitheater opens 30 minutes before the performance. Prior to this, the large lawn surrounding the amphitheater is open — an ideal spot for picnicking. Audience members may bring their own food and beverages, or purchase snacks and soft drinks on-site. Patrons are encouraged to bring low-backed beach chairs, stadium seats, or blankets into the amphitheater.
Please Note: Productions on The Outdoor Stage are made possible through continued collaboration with Saint Elizabeth University, who generously allow The Shakespeare Theatre of New Jersey their amphitheater for our outdoor performances each summer. Any inquiry regarding future use of the amphitheater should be directed to Saint Elizabeth University.
The 2023 Outdoor Stage Schedule:
There are no upcoming events at this time.